Links
As a proud sponsor of friendship, I recommend checking out these here links!


ELROND
Grilka Press
DEAD
Sige Recordings
Daniel Menche
Thrones
An Out Recordings
Repeater Radio The Neon Hospice
We Empty Rooms
NadineRecords
Anima Recordings
Accident Prone
Green Noise Records
Speck's Records
Musique Plastique
Landfill Rescue Unit Records
Spoiler Room
Shrew Florist
Leather Jester
Kole Galbraith
Ratskin Records
Moira Scar
Turqouiz Noiz MSHR
Smegma
Carly Barton
Moffenzeef Signal Dreams Podcast / Golden Donna
Psychic Sounds
XHURCH
Pod Blotz
Chloe Alexandra Thompson Fors
Spectator Books
Gravity Records
ORMUS
4MS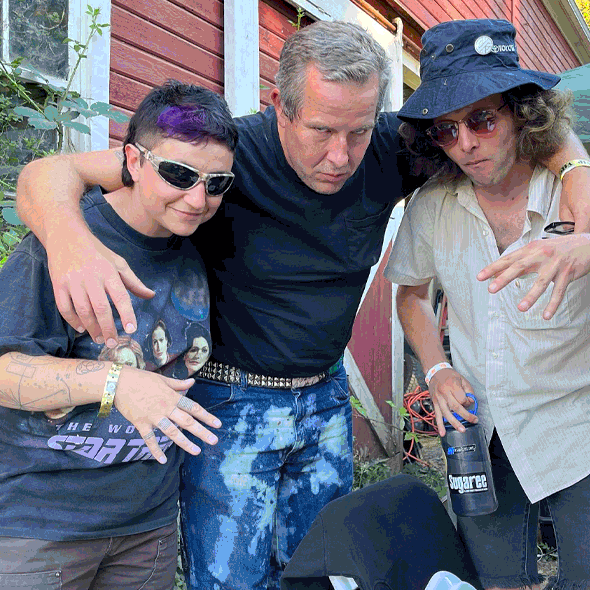 Friend Sounds
Current collaborations include a duo called ELROND, a super intense harsh noise powerviolence band called COCAINE DVD, occasionally with a band from Australia called DEAD and a duo with Daniel Menche called BEAR SPRAY.
ELROND
https://elrondislove.net
2017-present
Ian Gorman Weiland + Vern Avola
BEAR SPRAY
2019-present

Vern Avola + Daniel Menche = Bear Spray

VO + AVOLA
2019-present
My pal Vo and I collaborated in the name of friendship.
Vern Avola + DEAD
2016-present
Dead's newest album, Raving Drooling, features guest appearances by Creston Spears (Harvey Milk), Joe Preston (Thrones, Harvey Milk, High On Fire), Hirofumi Uchino (Defektro), Veronica Avola (That's me!) and MORE! Out April 1, 2020.
DEAD in collaboration with Veronica Avola. Recorded by Toshia Kasai at Sound Of Sirens, LA in 2015.
EMS + JEM
2016-present
Vern Avola, known for her synth wizardry in PRIZEHOG, is joined here by Jem of Australian bruisers DEAD for 31 minutes of deep space exploration and skull excavation. EMS augments her usual electronic arsenal with sparse and effective percussion for what can only be described as ritualistic friendship questing of the highest order. -SGG
R.U.N.Kil
2017-2019
Two mainstays of the Portland synth underground - EMS & Jeph Nor - explore the limits of modular synthesis on Live At Volt Divers, recorded on a freakishly nice Saturday evening in the gloomy occult interior of the Lovecraft Bar. -Forest Punk
2006-2015
'It's hard to know what else to say, other than repeat what we've always said, Prizehog should be adored, they should be worshipped the way Harvey Milk and Boris and the Melvins are, cuz maybe at one point, Prizehog were simply kids aping their heroes, aspiring to the sludge-y genius and twisted outsider metal of those other groups, but as hard as it may be for some folks to believe, Prizehog, might have outheavied, and outweirded, and outgeniused those masters, and become masters themselves, masters of fucking alien prog-doom, long haired, psych sludge, dirge-drone, damaged art pop. Fuck yeah.'
- Aquarius Records